Suzuki attempted to turn the sports bike business on its head and show the world what a true sports bike should be 35 years ago. They managed it by introducing the Suzuki GSXR 750, a championship-winning 750cc performance sports bike competent to chase down its rivals — in style. It can be regarded as the first inexpensive, modern racer-replica appropriate for road use, as it resembles a Suzuki Endurance racer.
The current GSXR 750 is a remarkable sports bike in and of itself, occupying a spot in the middle of the performance bike class. This bike is fantastic on its own, but aftermarket exhausts may boost its performance even further. With the right exhaust for your GSXR 750, you can significantly enhance its performance output and give it that distinct sound that GSXR 750 riders enjoy.
So, if you are looking for the finest aftermarket exhaust for your Suzuki GSXR 750, we have got your covered.  To make your quest easier, we have compiled a list of the top aftermarket exhausts that are compatible with your bike model.
1.  M4 GP Series Slip-On Exhaust
M4 Exhaust produces exhausts that increase power and give your bike a more race-inspired sound while also reducing overall weight. Time and efforts spent on research and innovation guarantee that your exhaust is of the best standard, is simple to install and provides the optimum performance for your motorbike.
The GP series exhausts from M4 are designed to increase your bike's performance while lowering its overall weight. It also provides your GSXR 750 a distinct sound that only the M4 possesses. What exactly do you receive when you buy this slip-on exhaust? It has a lower-mounted exhaust, allowing the rider to comfortably fit their foot without hitting the exhaust. This exhaust also features a built-in baffle, which produces a sharp, attention-getting sound. It is also built of long-lasting materials, so you can be assured that it will not let you down. The GP Series mounts lower and closer to the right rider's footpeg than standard.
This slip-on exhaust has the added benefit of being engineered to operate with the OEM header assembly. It is a slip-on style, so just slide them on.  This is especially useful if you do not have time to install a full-system exhaust. This mount will give you the look and sound of a GP for real.  Enjoy your ride with the RPM range that produces a rich, high-pitched tone.
2.  Yoshimura Alpha T Slip-On Exhaust
Yoshimura's Race Series is the best choice for you if you are seeking a competitive edge. These exhaust systems were created with one goal is to maximize power. Each Race Series system is designed to meet the noise compliance rules enforced by the majority of racing sanctioning organizations throughout the world.
This is the true alpha exhaust because, in addition to having an iconic design, Yoshimura is recognized for making high-quality exhausts that are commended by racers. A higher GP tone corresponds to a deeper, snarling sound. The material is long-lasting and may be manufactured from a variety of metals based on your preferences. Furthermore, you can notice how forceful and elegant it appears.
The Alpha T features a tapered conical sleeve that generates a higher GP tone than its larger sibling Alpha while also being lighter. This muffler has a carbon fiber end cap and is made of sturdy stainless steel with Yoshimura's distinctive works finish. It has a magnificent shape thanks to its Tri-Oval design heritage. Due to enhanced production tolerances, it delivers the greatest quality. Furthermore, the performance is adjusted for optimum flow and increased ground clearance, and the muffler volume and shape provide Yoshimura's signature magic tone.
3.  Radiant Cycles Shorty GP Exhaust
This Radiant Cycles Shorty exhaust system is for people looking for the cheapest and loudest exhaust system available. The overall volume is far higher than any of the other systems we have examined.
Shorter exhausts often increase top-end horsepower, while longer exhausts increase low-end torque. This sort of exhaust often affects throttle response at lower RPM. The Radiant Cycles Shorty GP exhaust is a long-lasting, small, lightweight, and simple-to-install shorty exhaust. It considerably decreases the weight of your GSXR 750 by being approximately 2lbs in weight. It boasts a heavy-duty, fully welded frame that will provide you with years of trouble-free use. The finish is a high-quality chrome plating that matches the original pieces perfectly. It is simple to install; just take out your old muffler and replace it with this new pipe. At a low cost, it will offer your bike a sophisticated appearance.
One of its most notable characteristics is its low weight and durability. It is the equivalent of sticking a large toilet paper roll on your bike's exhaust pipes. Customers like how simple the installation is. There is no need to be an expert in bike mechanics to install this one.
4.  Voodoo Polished Shorty Full System 4 into 1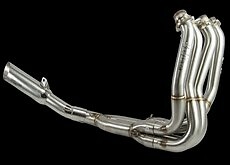 VooDoo Industries understands how to satisfy its consumers. That is why they have provided them with an option to a standard full-system exhaust – a 4-into-1 full-system exhaust. This sort of full-exhaust system is similar to the standard ones, but it is reserved for high-performance. Those additional exhaust pipes improve engine exhaust flow and boost the engine's power output. This 4-into-1 whole system exhaust is comprised of high-quality stainless steel that has been perfectly treated, bent, and welded. It gives your GSXR 750 a significant power boost while making it growl like a beast.
Following are some of the main features of it. There are spring-connected collectors on the head pipes, as well as a VooDoo Muffler. Master welded using CNC mandrel-bent stainless steel for a precise fit and finish. Custom detachable and rebuildable VooDoo baffle, completed with a laser-etched VooDoo Exhaust logo.  New head pipe bolts and installation gear, as well as detailed instructions, are provided for a simple installation.
Checkout our article on How to Clean Motorcycle Chain without Stand?
If you want to improve the performance of your GSXR 750, you should change your exhaust system right now. The appropriate exhaust system will not only boost your bike's performance, but will also enhance its appearance and sound. Furthermore, a new tailored exhaust system may significantly reduce backpressure, putting less strain on your engine.
Some of the best slip-on exhausts for your Yamaha R6 are included in the list above. You should make use of them if you want to have a better ride. Each of these exhausts has its own distinct characteristics. These exhausts will not only secure your bike but will also make it more exciting and pleasurable to ride.